Visualizing An Infant's Schedule
A newborn may only eat, sleep, and poop, but they sure do it a lot! Here is a sample of two weeks of an an infant's schedule visualized with matplotlib.
A while ago I came across a radial sleep schedule plot and thought it was a creative way to visualize this type of data.
300 days of a baby's sleeping data. #dataviz

One continuous spiral starting on the inside, each revolution representing a single day. Midnight is at the top, midday at the bottom (24 hour clock). Orange represents wake periods, blue represents sleep.https://t.co/AJ9zwRYn7K pic.twitter.com/fgQimcNrUD

— Randy Olson (@randal_olson) October 22, 2017
Since my wife and I have been tracking data for use with the doctor already using the Baby Tracker app, and since it has a convenient exoprt to csv feature, I decided to make a similar chart.
To export the data from the Baby Tracker app go to Settings > Export Data to CSV.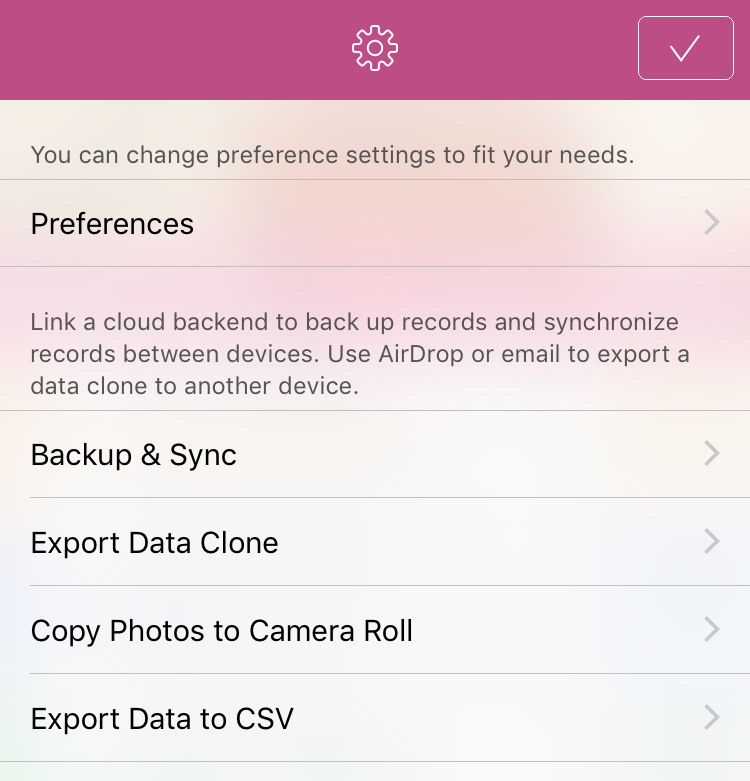 This will generate a csv.zip file that you can email to yourself. Unzipping the file gives one csv for each category: sleep, nursing, diaper, etc.
Using sleep as an example, we start by loading the data into a Pandas DataFrame:
{% notebook downloads/code/baby-schedule/baby-notebook.ipynb cells[0:1] %}
This gives us the start time and duration of each period of sleep. Our matplotlib chart is a bar chart on a polar projection. Therefore, we need to define the center, thickness, width, bottom of each bar:
center is the midpoint of the nap, or (end time - start time) / 2, which we then convert to polar coordinates and offset so midnight is at the bottom
thickness is a constant, we use 1
width is the duration of the nap converted to polar coordinates and rotated
bottom is the radial position of the bar, which corresponds to the date since each "ring" on the chart is a day
Putting this together with some hour labels, we get a simple chart of baby's sleep pattern over two weeks: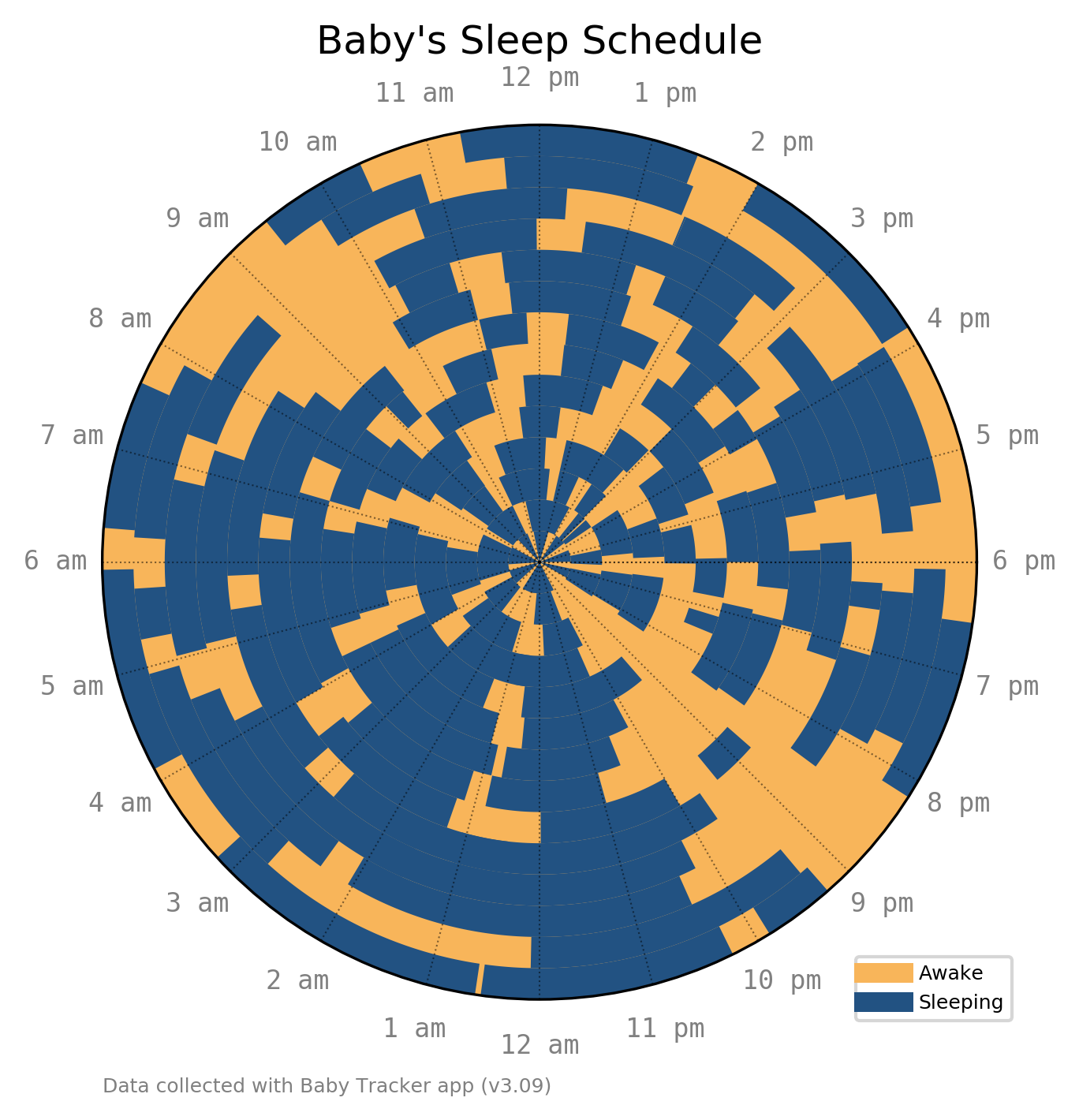 Nursing time has a similar duration, and different colored bars can be added in the same manner. Other data such as diapers are single events without a duration:
{% notebook downloads/code/baby-schedule/baby-notebook.ipynb cells[1:2] %}
For these, we plot a simple point instead of a bar. Adding a nice legend and a some story time, we get the final chart:
Here is the full code (or download here):
import

 

pandas

 

as

 

pd




import

 

numpy

 

as

 

np




import

 

matplotlib.pyplot

 

as

 

plt




from

 

matplotlib.patches

 

import

 

Patch




from

 

matplotlib.lines

 

import

 

Line2D





def

 

data_sleep

(

path

):


    

# read data


    

sleep

 

=

 

pd

.

read_csv

(

path

,


                        

parse_dates

=

[

1

])


    

sleep

[

'DateTime'

]

 

=

 

sleep

[

'Time'

]


    

sleep

[

'Date'

]

 

=

 

sleep

[

'DateTime'

]

.

dt

.

date


    

sleep

[

'Time'

]

 

=

 

sleep

[

'DateTime'

]

.

dt

.

time



    

# get bottom


    

sleep

[

'bottom'

]

 

=

 

(

sleep

[

'Date'

]

-

min

(

sleep

[

'Date'

]))

.

astype

(

str

)


    

sleep

[

'bottom'

]

 

=

 

(

sleep

[

'bottom'

]

.

str

.

split

(

' '

)

.

str

.

get

(

0

))

.

astype

(

int

)



    

# get minutes


    

sleep

[

'minutes'

]

 

=

 

sleep

[

'Time'

]

.

astype

(

str

)

.

str

.

split

(

':'

)

.

apply

(

lambda

 

x

:

 

int

(

x

[

0

])

 

*

 

60

 

+

 

int

(

x

[

1

]))



    

return

 

sleep






def

 

data_nurse

(

path

):


    

# read data


    

nurse

 

=

 

pd

.

read_csv

(

path

,


                        

parse_dates

=

[

1

])


    

nurse

[

'DateTime'

]

 

=

 

nurse

[

'Time'

]


    

nurse

[

'Date'

]

 

=

 

nurse

[

'DateTime'

]

.

dt

.

date


    

nurse

[

'Time'

]

 

=

 

nurse

[

'DateTime'

]

.

dt

.

time



    

# get duration


    

nurse

[

'Total Duration'

]

 

=

 

nurse

[

'Left duration'

]

 

+

 

nurse

[

'Right duration'

]



    

# get bottom


    

nurse

[

'bottom'

]

 

=

 

(

nurse

[

'Date'

]

-

min

(

nurse

[

'Date'

]))

.

astype

(

str

)


    

nurse

[

'bottom'

]

 

=

 

(

nurse

[

'bottom'

]

.

str

.

split

(

' '

)

.

str

.

get

(

0

))

.

astype

(

int

)



    

# get minutes


    

nurse

[

'minutes'

]

 

=

 

nurse

[

'Time'

]

.

astype

(

str

)

.

str

.

split

(

':'

)

.

apply

(

lambda

 

x

:

 

int

(

x

[

0

])

 

*

 

60

 

+

 

int

(

x

[

1

]))



    

return

 

nurse






def

 

data_diaper

(

path

):


    

# read data


    

diaper

 

=

 

pd

.

read_csv

(

path

,


                        

parse_dates

=

[

1

])


    

diaper

[

'DateTime'

]

 

=

 

diaper

[

'Time'

]


    

diaper

[

'Date'

]

 

=

 

diaper

[

'DateTime'

]

.

dt

.

date


    

diaper

[

'Time'

]

 

=

 

diaper

[

'DateTime'

]

.

dt

.

time



    

# get bottom


    

diaper

[

'bottom'

]

 

=

 

(

diaper

[

'Date'

]

-

min

(

diaper

[

'Date'

]))

.

astype

(

str

)


    

diaper

[

'bottom'

]

 

=

 

(

diaper

[

'bottom'

]

.

str

.

split

(

' '

)

.

str

.

get

(

0

))

.

astype

(

int

)



    

# get minutes


    

diaper

[

'minutes'

]

 

=

 

diaper

[

'Time'

]

.

astype

(

str

)

.

str

.

split

(

':'

)

.

apply

(

lambda

 

x

:

 

int

(

x

[

0

])

 

*

 

60

 

+

 

int

(

x

[

1

]))



    

return

 

diaper






def

 

data_story

(

path

):


    

# read data


    

story

 

=

 

pd

.

read_csv

(

path

,


                        

parse_dates

=

[

1

])


    

story

 

=

 

story

[

story

[

'Other activity'

]

==

'Story Time'

]


    

story

[

'DateTime'

]

 

=

 

story

[

'Time'

]


    

story

[

'Date'

]

 

=

 

story

[

'DateTime'

]

.

dt

.

date


    

story

[

'Time'

]

 

=

 

story

[

'DateTime'

]

.

dt

.

time



    

# get bottom


    

story

[

'bottom'

]

 

=

 

(

story

[

'Date'

]

-

min

(

story

[

'Date'

]))

.

astype

(

str

)


    

story

[

'bottom'

]

 

=

 

(

story

[

'bottom'

]

.

str

.

split

(

' '

)

.

str

.

get

(

0

))

.

astype

(

int

)



    

# get minutes


    

story

[

'minutes'

]

 

=

 

story

[

'Time'

]

.

astype

(

str

)

.

str

.

split

(

':'

)

.

apply

(

lambda

 

x

:

 

int

(

x

[

0

])

 

*

 

60

 

+

 

int

(

x

[

1

]))



    

return

 

story






def

 

plot_sleep_radial

(

sleep

):


    

ax

 

=

 

plt

.

subplot

(

111

,

 

projection

=

'polar'

)


    

ax

.

set_facecolor

(

'#F8B55A'

)

 

# awake time background



    

# turn axes off


    

ax

.

axes

.

get_xaxis

()

.

set_visible

(

False

)


    

ax

.

axes

.

get_yaxis

()

.

set_visible

(

False

)



    

# sleep time


    

for

 

row

 

in

 

range

(

sleep

.

shape

[

0

]):


        

duration

 

=

 

sleep

.

loc

[

sleep

.

index

[

row

],

'Duration(minutes)'

]


        

minutes

  

=

 

sleep

.

loc

[

sleep

.

index

[

row

],

'minutes'

]


        

bottom

   

=

 

sleep

.

loc

[

sleep

.

index

[

row

],

'bottom'

]


        

width

 

=

 

duration

 

/

 

60

 

/

 

24

 

*

 

2

 

*

 

np

.

pi


        

center

 

=

 

(

 

-

(

minutes

+

duration

/

2

)

 

/

 

60

 

/

 

24

 

*

 

2

 

*

 

np

.

pi

)

 

-

 

np

.

pi

/

2


        

bars

 

=

 

ax

.

bar

(

center

,

 

1

,

 

width

=

width

,

 

bottom

=

bottom

,

 

color

=

'#225282'

)



    

# hour marks


    

x

 

=

 

np

.

linspace

(

0

,

np

.

pi

*

2

,

num

=

25

)


    

hr

 

=

 

[

'6 pm'

,

'5 pm'

,

'4 pm'

,

'3 pm'

,

'2 pm'

,

'1 pm'

,

'12 pm'

,


          

'11 am'

,

'10 am'

,

'9 am'

,

'8 am'

,

'7 am'

,

'6 am'

,


          

'5 am'

,

'4 am'

,

'3 am'

,

'2 am'

,

'1 am'

,

'12 am'

,


          

'11 pm'

,

'10 pm'

,

'9 pm'

,

'8 pm'

,

'7 pm'

,

''

]


    

for

 

i

 

in

 

range

(

len

(

x

)):


        

plt

.

plot

([

0

,

x

[

i

]],[

0

,

bottom

+

1

],

'k:'

,

lw

=.

5

,

alpha

=.

5

)


        

plt

.

text

(

x

[

i

],

bottom

+

2.5

,

hr

[

i

],

ha

=

'center'

,

va

=

'center'

,

 

color

=

'grey'

,

 
            

fontsize

=

8

,

 

family

=

'monospace'

)



    

# annotation


    

ax

.

annotate

(

'Data collected with Baby Tracker app (v3.09)'

,

 

xy

=

(

0

,

 

0

),

  
        

xycoords

=

'figure fraction'

,

 

xytext

=

(

0.0

,

 

-

0.1

),

 

textcoords

=

'axes fraction'

,


        

horizontalalignment

=

'left'

,

 

verticalalignment

=

'center'

,

 

fontsize

=

6

,

 

color

=

'grey'

)



    

# legend


    

legend_elements

 

=

 

[

Line2D

([

0

],

 

[

0

],

 

color

=

'#F8B55A'

,

 

lw

=

6

,

 

label

=

'Awake'

),


                       

Line2D

([

0

],

 

[

0

],

 

color

=

'#225282'

,

 

lw

=

6

,

 

label

=

'Sleeping'

)]

                       
    

ax

.

legend

(

handles

=

legend_elements

,

 

loc

=

'upper left'

,

 

bbox_to_anchor

=

(

.

85

,

 

.

06

),

 

fontsize

=

6

)




    

plt

.

title

(

'Baby

\'

s Sleep Schedule'

,

 

va

=

'bottom'

)


    

plt

.

ylim

(

ymax

=

bottom

+

1

)


    

plt

.

savefig

(

'plot_sleep_radial.png'

,

 

bbox_inches

=

'tight'

,

 

dpi

=

300

)






def

 

plot_all_radial

(

sleep

,

 

nurse

,

 

diaper

,

 

story

):


    

ax

 

=

 

plt

.

subplot

(

111

,

 

projection

=

'polar'

)


    

ax

.

set_facecolor

(

'#F8B55A'

)

 

# awake time background



    

# turn axes off


    

ax

.

axes

.

get_xaxis

()

.

set_visible

(

False

)


    

ax

.

axes

.

get_yaxis

()

.

set_visible

(

False

)



    

# sleep time


    

for

 

row

 

in

 

range

(

sleep

.

shape

[

0

]):


        

duration

 

=

 

sleep

.

loc

[

sleep

.

index

[

row

],

'Duration(minutes)'

]


        

minutes

  

=

 

sleep

.

loc

[

sleep

.

index

[

row

],

'minutes'

]


        

bottom

   

=

 

sleep

.

loc

[

sleep

.

index

[

row

],

'bottom'

]


        

width

 

=

 

duration

 

/

 

60

 

/

 

24

 

*

 

2

 

*

 

np

.

pi


        

center

 

=

 

(

 

-

(

minutes

+

duration

/

2

)

 

/

 

60

 

/

 

24

 

*

 

2

 

*

 

np

.

pi

)

 

-

 

np

.

pi

/

2


        

bars

 

=

 

ax

.

bar

(

center

,

 

1

,

 

width

=

width

,

 

bottom

=

bottom

,

 

color

=

'#225282'

)



    

# nurse time


    

for

 

row

 

in

 

range

(

nurse

.

shape

[

0

]):


        

duration

 

=

 

nurse

.

loc

[

nurse

.

index

[

row

],

'Total Duration'

]


        

minutes

  

=

 

nurse

.

loc

[

nurse

.

index

[

row

],

'minutes'

]


        

bottom

   

=

 

nurse

.

loc

[

nurse

.

index

[

row

],

'bottom'

]


        

width

 

=

 

duration

 

/

 

60

 

/

 

24

 

*

 

2

 

*

 

np

.

pi


        

center

 

=

 

(

 

-

(

minutes

+

duration

/

2

)

 

/

 

60

 

/

 

24

 

*

 

2

 

*

 

np

.

pi

)

 

-

 

np

.

pi

/

2


        

bars

 

=

 

ax

.

bar

(

center

,

 

1

,

 

width

=

width

,

 

bottom

=

bottom

,

 

color

=

'#f85a9d'

)



    

# dirty diapers


    

for

 

row

 

in

 

range

(

diaper

.

shape

[

0

]):


        

bottom

   

=

 

diaper

.

loc

[

diaper

.

index

[

row

],

'bottom'

]


        

minutes

  

=

 

diaper

.

loc

[

diaper

.

index

[

row

],

'minutes'

]


        

center

 

=

 

(

 

-

minutes

 

/

 

60

 

/

 

24

 

*

 

2

 

*

 

np

.

pi

)

 

-

 

np

.

pi

/

2


        

plt

.

plot

(

center

,

 

bottom

+.

5

,

 

marker

=

'o'

,

 

markersize

=

3

,

 

color

=

"#825222"

,

 
            

markeredgecolor

=

'white'

,

 

markeredgewidth

=.

2

)



    

# story time


    

for

 

row

 

in

 

range

(

story

.

shape

[

0

]):


        

bottom

   

=

 

story

.

loc

[

story

.

index

[

row

],

'bottom'

]


        

minutes

  

=

 

story

.

loc

[

story

.

index

[

row

],

'minutes'

]


        

center

 

=

 

(

 

-

minutes

 

/

 

60

 

/

 

24

 

*

 

2

 

*

 

np

.

pi

)

 

-

 

np

.

pi

/

2


        

plt

.

plot

(

center

,

 

bottom

+.

5

,

 

marker

=

'o'

,

 

markersize

=

3

,

 

color

=

"#5aecf8"

,

 
            

markeredgecolor

=

'white'

,

 

markeredgewidth

=.

2

)



    

# hour marks


    

x

 

=

 

np

.

linspace

(

0

,

np

.

pi

*

2

,

num

=

25

)


    

hr

 

=

 

[

'6 pm'

,

'5 pm'

,

'4 pm'

,

'3 pm'

,

'2 pm'

,

'1 pm'

,

'12 pm'

,


          

'11 am'

,

'10 am'

,

'9 am'

,

'8 am'

,

'7 am'

,

'6 am'

,


          

'5 am'

,

'4 am'

,

'3 am'

,

'2 am'

,

'1 am'

,

'12 am'

,


          

'11 pm'

,

'10 pm'

,

'9 pm'

,

'8 pm'

,

'7 pm'

,

''

]


    

for

 

i

 

in

 

range

(

len

(

x

)):


        

plt

.

plot

([

0

,

x

[

i

]],[

0

,

bottom

+

1

],

'k:'

,

lw

=.

5

,

alpha

=.

5

)


        

plt

.

text

(

x

[

i

],

bottom

+

2.5

,

hr

[

i

],

ha

=

'center'

,

va

=

'center'

,

 

color

=

'grey'

,

 
            

fontsize

=

8

,

 

family

=

'monospace'

)



    

# annotation


    

ax

.

annotate

(

'Data collected with Baby Tracker app (v3.09)'

,

 

xy

=

(

0

,

 

0

),


        

xycoords

=

'figure fraction'

,

 

xytext

=

(

0.0

,

 

-

0.1

),

 

textcoords

=

'axes fraction'

,


        

horizontalalignment

=

'left'

,

 

verticalalignment

=

'center'

,

 

fontsize

=

6

,

 

color

=

'grey'

)



    

# legend


    

legend_elements

 

=

 

[

Line2D

([

0

],

 

[

0

],

 

color

=

'#F8B55A'

,

 

lw

=

6

,

 

label

=

'Awake'

),


                       

Line2D

([

0

],

 

[

0

],

 

color

=

'#225282'

,

 

lw

=

6

,

 

label

=

'Sleeping'

),


                       

Line2D

([

0

],

 

[

0

],

 

color

=

'#f85a9d'

,

 

lw

=

6

,

 

label

=

'Nursing'

),


                       

Line2D

([

0

],

 

[

0

],

 

marker

=

'o'

,

 

color

=

'#825222'

,

 

label

=

'Diaper'

,


                              

markeredgecolor

=

'w'

,

 

markersize

=

7

),


                       

Line2D

([

0

],

 

[

0

],

 

marker

=

'o'

,

 

color

=

'#5aecf8'

,

 

label

=

'Story Time'

,


                              

markeredgecolor

=

'w'

,

 

markersize

=

7

)]


    

ax

.

legend

(

handles

=

legend_elements

,

 

loc

=

'upper left'

,

 

bbox_to_anchor

=

(

.

85

,

 

.

06

),

 

fontsize

=

6

)



    

plt

.

title

(

'Baby

\'

s Schedule'

,

 

va

=

'bottom'

)


    

plt

.

ylim

(

ymax

=

bottom

+

1

)


    

plt

.

savefig

(

'plot_all_radial.png'

,

 

bbox_inches

=

'tight'

,

 

dpi

=

300

)






sleep

 

=

 

data_sleep

(

'Baby1_sleep.csv'

)




nurse

 

=

 

data_nurse

(

'Baby1_nursing.csv'

)




diaper

 

=

 

data_diaper

(

'Baby1_diaper.csv'

)




story

 

=

 

data_story

(

'Baby1_other_activity.csv'

)





plot_sleep_radial

(

sleep

)




plot_all_radial

(

sleep

,

 

nurse

,

 

diaper

,

 

story

)



---
Library versions:
matplotlib  2.2.2




pandas      0.22.0




Python      3.6.3